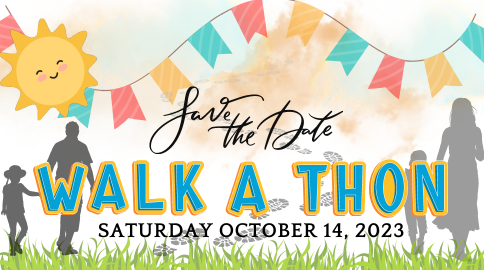 In October of each school year, PCS holds their annual Walkathon fundraiser.
This year's Walk-A-Thon will take place on Saturday, October 14th from 9:00 AM to 11:30 AM Refreshments and bagels will be provided in the gymnasium at 9:00 AM before we part our separate ways. Please note an RSVP from your family with the amount of attendees is required. RSVP's must be submitted by Tuesday October 10, 2023.
Walk-A-Thon is a family event that encourages student's parents and siblings to join as part of our school community, for a morning of fun and fellowship.
This event helps our school in a number of important ways: it raises a substantial amount of money, it allows our children to make a significant contribution to their school, it helps to build school spirit, it develops a healthy sense of accomplishment amongst our students, and it allows people, who are not directly involved in the school, to contribute to Pickering Christian School.
If you are new to our school, or have general questions regarding this event, check out our FAQ's page linked below.
This year we will be continuing to accept Online Donations, which will make the donation process easier and more efficient. Sponsors donating over $20.00 will receive tax receipts immediately through online donating. More information about Online Donations can be found here.
Creating An Online Fundraising Page
How To Make An Online Donation
Please note that all monies must be submitted to the office by Tuesday October 31, 2023.
If you prefer to submit manual donations, see the forms provided in the links below that can be printed at home and submitted to the office on Tuesday October 31, 2023. Please note through the manual submission process, tax receipts to donors will be delayed until the new year.
Thank you so much for your continued support and partnership with our school. We are excited to see how the Lord continues to bless us to further His purpose.