Poinsettia Fundraiser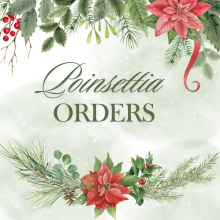 Over the last number of years, PCS has participated in the Poinsettia fundraiser. The plants come from Rekker's, a local flower provider, and are a great addition to homes for the Christmas season, as a gift, or even for local businesses or churches for building decorations. Orders need to be placed by Thursday, November 10th.
Poinsettias can be picked up from the school on Thursday, December 7th after 2:00 p.m. and during the day on Friday, December 8th.
For internal families, orders can be placed on-line through our Online Payment Portal, the same one we use for pizza lunch and beverage orders. If you haven't registered for the Online Payment Portal, please click here for instructions.
Orders can also be placed by downloading the order form and dropping it off in the office with payment.