Count Your Blessings
October 08, 2020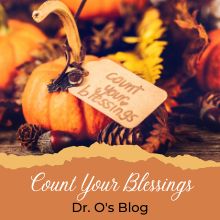 Ok, how old do you have to be to remember the little song "Count your Blessings"?
Sing along if you remember:
Count your blessings,
Name them one by one,
Count your many blessings
See what God has done.
In this thanksgiving season, I am humbled as I look around and see what God has done:
The school is open and thriving
Students are learning
Teachers are working diligently
God's goodness is being highlighted each day
The gospel is being shared
Students are taking more and more ownership
Parents are engaged and working hard at following the new norms of school attendance
Patience abounds
Laughter is in the halls
God's Word is being read without hindrance
I am reminded from God's word;
"The Lord is my strength and my shield; in him my heart trusts, and I am helped; my heart exults, and with my song I give thanks to him."
Psalm 28:7
I pray that during this Thanksgiving season you and your family can, with your songs, express your thankfulness to our God for all his blessings
Be blessed, be safe
Dr.O