Wednesday, October 26, 2022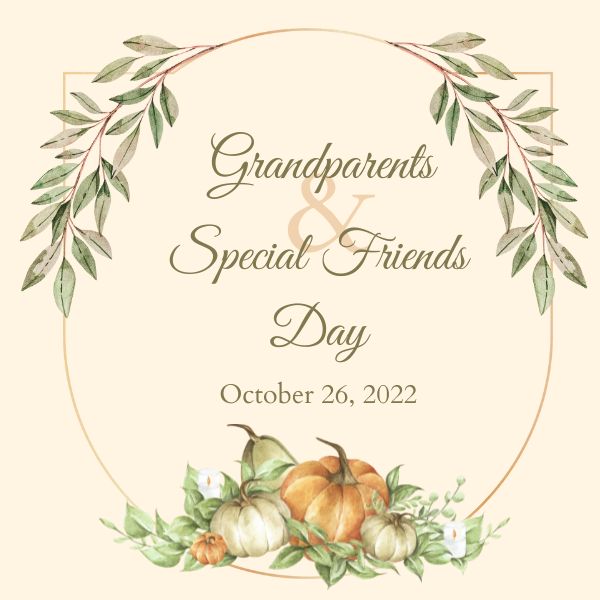 One of our most favourite days of the year is here!! We have the honour of celebrating our Grandparents & Special Friends and spending some special time with them.
An email invite went home on Friday, October 14, 2022 which can then be forwarded to Grandparents & Special Friends so they can RSVP for the day. (Or you can do it for them)

This year, due to the number of students, we have changed the format up to accommodate more guests to be able to attend. We will actually be hosting two programs; one in the morning and then one in the afternoon. The programs will be identical. Grandparents or Special Friends will need to select which program they are able to attend. Each time slot will include our program in the gym followed by some time to visit the classrooms before departing. Space is limited for each program and available on a first come first served basis.
Program #1 will run between 9:30 - 11:15 AM - RSVP link for Morning Program
Program #2 from 1:00 - 2:45 PM - RSVP link for Afternoon Program
Due to the change of having two programs, we will unfortunately not be able to accommodate Grandparents taking students out for lunch after the 1st program due to the limited time before the 2nd program. However, Grandparents/Special Friends who attend the 2nd program, will be able to take students home early if permission is received prior to them arriving that day.
Lastly, please note that students are limited to a maximum of 4 attendees in order to allow as many Grandparents and Special Friends to attend as possible. If a student does not have a Grandparent or Special Friend available then we do allow parents to stand in. We are limited to 225 guests per performance, so please keep in mind when entering your RSVPs.