Back to Calendar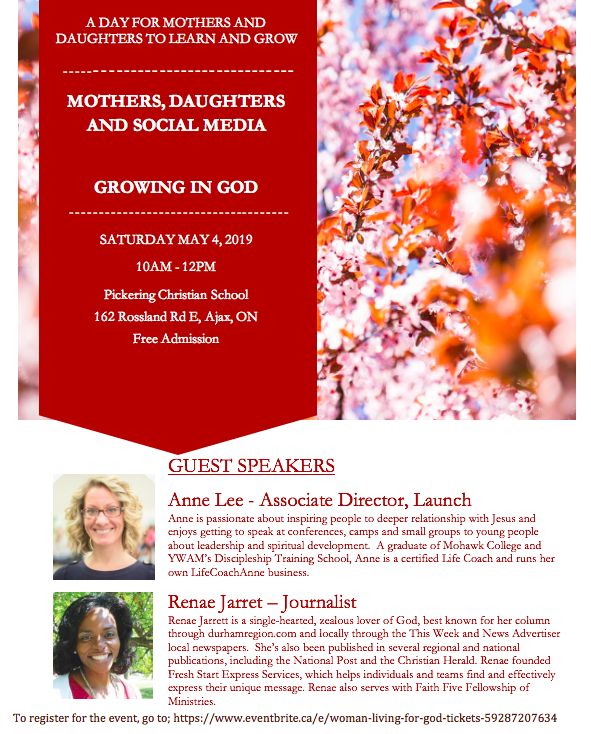 Growing in God
A Day for Mothers and Daughters to Learn and Grow
We are pleased to announce an upcoming event that is being coordinated by one of our PCS Alumni, Kiera Coombs. Here is how Kiera describes the event - Hi, I'm Kiera Coombs and I'm currently apart of Launch, a Leadership Development Course of Youth Unlimited. This course teaches high school students such as myself, to become young Christian leaders.
I have organized an event that allows Mothers and Daughters to have a day of bonding and the opportunity to learn more about the impacts of social media and to grow in Christ together.
This event is to support young girls and their mothers during the transition time from elementary school to high school. This is a time that young girls experience overwhelming pressure to fit in and sometimes doubt their Christianity to be popular.
Our amazing speakers for the morning are Anne Lee, speaking on the influence of social media and Renae Jarret, speaking of how to live in Christian relationships with one another!
The event is free but does require you to register in order to know how many people plan on coming. Targeted to girls from Grade 6 and up, you can register with your daughter, and find more information by visiting - https://www.eventbrite.ca/e/woman-living-for-god-tickets-59287207634