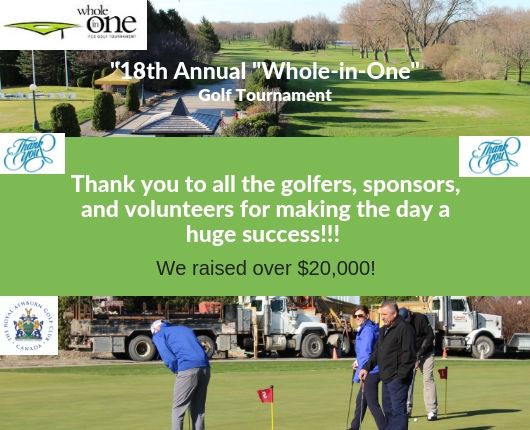 This year marks the 18th anniversary of Pickering Christian School's "Whole-in-One" Golf Tournament.
Last year 110 golfers enjoyed a wonderful day of golf, fellowship and great weather in support of Pickering Christian School and Christian Education in the Durham Region. Our friends at Royal Ashburn did a great job hosting us and we are looking forward to another amazing day this year. Be sure to get your registrations in as soon as possible, to insure you get a spot in this year's event.
Here is some important information to consider :
Price - $155
Venue - Royal Ashburn Golf Club
Date - Wednesday, May 8th, 2019
Important Times -
Registration - 7:30 - 8:45 a.m. - (Cont. Breakfast incl.)
Shotgun Start - 9:00 a.m. - (Lunch on course)
Closing Reception - 2:30 p.m. - (Light meal after)
Leave by 4:30/5:00 p.m. - (Home for dinner)
You can register by clicking here
Please be sure to forward this information to anyone you think would enjoy a great day of golf, fellowship and an opportunity to support Pickering Christian School and Christian Education in Durham Region.
We hope that you will consider joining us again either as a player, a sponsor or both! If you have any questions at all concerning the tournament or if you are interested in helping organize/sponsor the 2018 event, please contact David Park, Director of Development, at (905) 427-3120, Ext. 224, or via email at: dpark@pickeringcs.on.ca
We look forward to the opportunity of partnering with you in order to accomplish our vision as a school.
Thank you and God Bless,
David Park
Director of Development